a Derek Savage Family Series for Cool Kids presents:

Cool Cattm


--- "Cool Cat Saves the Kids" Movie ---
The First "Anti-Bullying & Kid's Gun Safety" Movie

Cool Cat is the Coolest Cat in the World!
And Butch the Bully hates him because of it.
So Butch always tries the punk Cool Cat and Maria,
but Cool Cat is smarter and Cool Cat Saves the Kids!

--Includes FOUR Original Cool Cat Songs--

Only $9.99

The film addresses several issues that affect our children on a daily basis:

- Bullying and Cyberbullying
- Kidís Gun Safety
- Anti-Graffiti
- Kidís Exercise
"COOL CAT SAVES THE KIDS" MOVIE
is based on the
"COOL CAT STOPS BULLYING"
BILINGUAL BOOK

Inside Page of Bilingual Book
"Cool Cat Stops Bullying"
--- Cool Cat's New Book ---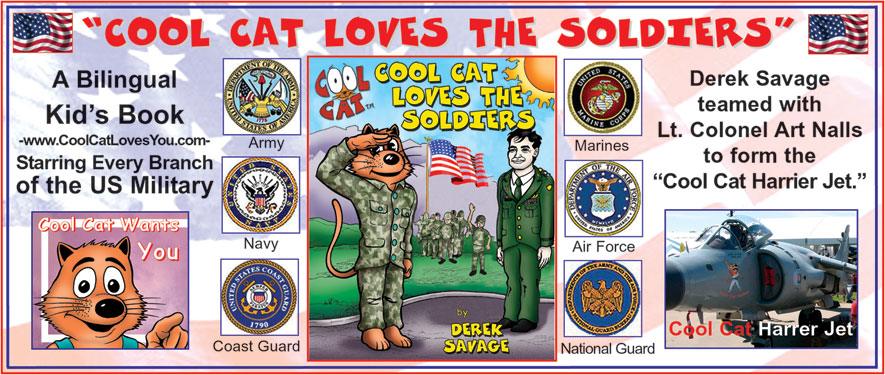 --- Cool Cat YouTube Videos ---
--- Cool Cat Books, Clothes & More ---
Cool Cat Books are Bilingual in English and Spanish !!!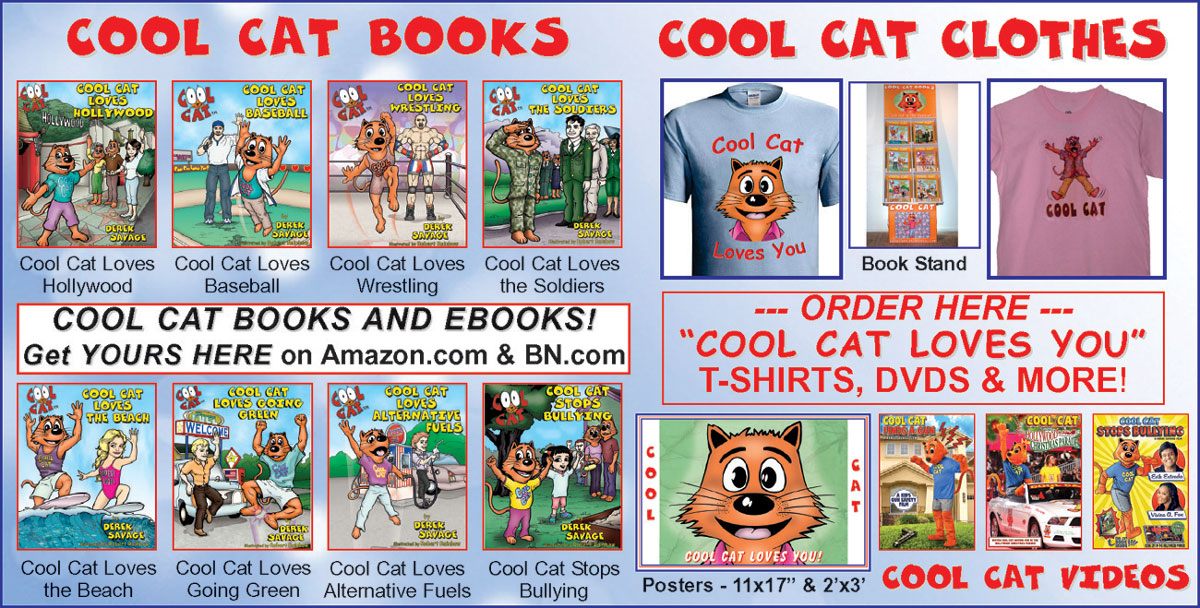 <<<< Play Cool Cat's Fun MatchGame Here >>>>
Kids love Cool Cat and Cool Cat loves kids! His stories are interactive
to bring parents and children together in laughter, learning and love.
--- Rave Reviews for Cool Cat ---
The Cool Cat books are Adorable and have so much Potential!
Bill Melendez, 9-time Emmy Award Winner, producer of Charlie Brown & voice of Snoopy
Cool Cat is the Coolest Children's Books Ever!
Linda Hopkins, Tony Award Winner & 2-time Grammy Nominee
The Cool Cat Books are Cool!
Dean Koontz, NY Times Best Selling Author
Cool Cat is a Clever Series!
Rupert Murdoch, CEO of FOX and 20th Century FOX Studios
I Love Cool Cat!
Bo Derek, Legendary Actress, The Perfect '10'
Cool Cat is Fun!
Adam West, the Real Batman
Cool Cat's English and Spanish text makes it easy for kids to learn the basics of Both Languages.
Jonathon Lewis, President of Parents and Kids First

Derek says, Check out my Novels, Screenplays, and other Kid's Books.
And thanks for looking!

The Savage Site has won the prestige Website Awards


See the Trolly the Trout Cartoon !!!
---


Copyright © 2014, Derek Savage. All Rights Reserved. Cool Cat is a Trademark of Derek Savage.
The Cool Cat Website is hosted by www.LasVegasWebHosting.com - They are good folks and tell them Cool Cat sent you!