-Watch the Trailer-
>>> NO WAIT - STREAM "COOL CAT KIDS SUPERHERO" NOW <<<
Amazon - www.amazon.com/Cool-Cat-Kids-Superhero/dp/B07HCZQZBD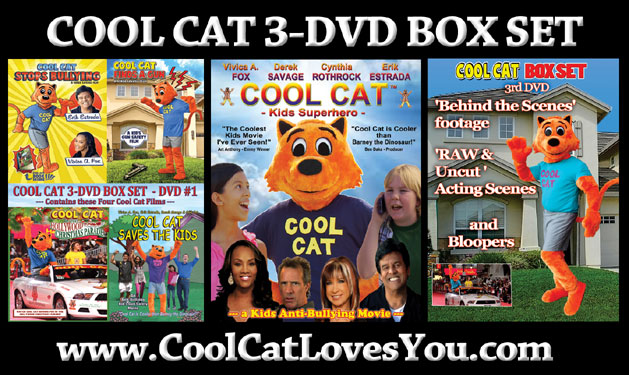 --- Cool Cat 3-DVD Box Set ---
Special Cool Cat Collector's Box Set, with Signed 'Cool Cat Kids Superhero' Screenplay Page
A '72 page script', so limited number - 1 to 72 - Each Page Signed
Box Set also comes with a Cool Cat Book and Key Chain
3-DVD Box Set
only $25.00
>Collector's Set<
w-Signed Script Page
only $45.00
Watch the 'Cool Cat Box Set' Video


--- Cool Cat Face Mask ---
Stay Safe & Be Cool
in the Cool Cat
Coronavirus Mask!

Just $14
2 for $26.00

--- Cool Cat Kids Superhero ---
'the Anti-Bullying & Kids Gun Safety Movie'
COOL CAT SOUNDTRACK
only $9.99
COOL CAT KIDS SUPERHERO
"the Anti-Bullying movie"
only $12.99
-comes with Book & Key Chain-
---COOL SPECIAL---
DVD, CD, Book & Key Chain
only $19.50
<<<--COOL CAT STORE HERE-->>>
"COOL CAT" SHIRT
Royal Blue Shirt
with DVD, Book & KC $29.99
only $19.99
"COOL CAT LOVES YOU" SHIRT
Black Shirt
with DVD, Book & KC $29.99
only $19.99
"COOL CAT" SHIRT
Black Shirt
with DVD, Book & KC $29.99
only $19.99
--Sweaters & Hoodies--
COOL CAT SWEATER
stay cozy with Cool Cat
with DVD & KC $37.95
only $27.95
"Cool Cat Loves You"
XXL & 3XL SIZE
SHIRTS
COOL CAT LOVE YOU HOODIE
has front pockets
with DVD & KC $41.95
only $31.95
--- All Sales are Final. No Returns ---
--- Dirty Dog ---
I'm Dirty Dog and
I'm the baddest dog ever!
"DIRTY DOG" SHIRT
Just like he wears in the film!
only $19.99
You smell like a kid,
and kids stink!
--Cool Cat Large Mask & Posters & Key Chains--
AUTOGRAPHED POSTER
'Signed by Cool Cat to You!'
only $9.99
please include note who to sign to
*11x17" poster will have Crease
from shipping, Includes a Key Chain
COOL CAT MINI-ME MASK
Masks are Handmade & Painted
Autographed & Numbered
Mask only $25.00
- Package includes -
MASK, MOVIE, SHIRT,
BOOK, KEY CHAIN
& SIGNED POSTER
COOL CAT KEY CHAIN
only $1.99 each
5 for $8.00
10 for $15.00
20 for $25.0
Print a FREE COOL CAT Paper Mask
Print a Free Cool Cat Mask!
In 8.5x11 size for regular printers

Now You can be Cool Cat


Follow Cool Cat at @CoolCatLovesYou
--- Cool Cat® Books & eBooks ---
Cool Cat Books are Coming Soon

Cool Cat
Loves
Baseball

Cool Cat
Loves
the Beach


Cool Cat
Loves
Space


Cool Cat
Loves
the Soldiers

Cool Cat
Stops
Bullying

>>>RAVE REVIEWS for COOL CAT<<<
Cool Cat is Fun! Adam West, the Real Batman
I Love Cool Cat! Bo Derek, Legendary Actress
Cool Cat is Cooler than Barney the Dinosaur! Ben Daka, Music Producer
Cool Cat is the Coolest Children's film ever! Linda Hopkins, Tony Award Winner
The Coolest Kids Movie I've ever seen! Art Anthony, Emmy Award Winner
Cool Cat is a Clever Series! Rupert Murdoch, CEO of FOX
Cool Cat has so much Potential! Bill Melendez, 9-time Emmy Winner, producer of Charlie Brown
<<<< Play Cool Cat's Fun MatchGame Here >>>>

--- Cool Cat® 'Kid's Gun Safety' PSAs ---
Starring Vivica A. Fox, Eric Roberts, Chief LaChasse of Burbank PD, Derek Savage and Cool Cat


---

Copyright © 2021, Derek Savage. Cool Cat ® is a US Federally Registered Trademark of Derek Savage.
Duplication in any way is prohibited. All Rights Reserved.