Cool Cat , Cool Cat Saves the Kids , Derek Savage Productions , Cool Cat Productions , Cool Cat Movie, Vivica A. Fox, Eric Estrada, Kids Gun Safety , Anti-Bullying , Bullying, Cool Cat Loves You

a Derek Savage Family Series for Cool Kids presents:

Cool Cattm


--- "Cool Cat Saves the Kids" Movie ---
Cool Cat is the Coolest Cat in the World!
And Butch the Bully hates him because of it.
So Butch always tries to bully Cool Cat and Maria,
but Cool Cat is smarter and Cool Cat Saves the Kids!

*** Starring ***
Vivica A. Fox, Erik Estrada
Derek Savage & Cool Cat

Order ďCool Cat Saves the KidsĒ DVD,
ONLY $9.99

Ebay purchases also get a Free Cool Cat Book!
On Amazon:
www.amazon.com/Cool-Cat-Saves-Kids/dp/B00SLXRAGA
----
Streaming NOW on VOD - only $5.99
www.amazon.com/Cool-Cat-Saves-Kids/dp/B00TMWXD10
Cool Cat tackles Bullying and Cyberbullying, Kidís Gun Safety, Anti-Graffiti & Kidís Exercise
Rave Reviews:
Cool Cat is Cooler than Barney the Dinosaur! Ben Daka, Music Producer
Cool Cat is the Coolest Children's film ever! Linda Hopkins, Tony Award Winner
The Cool Cat movie is the coolest, and itís terrific for kids! Art Anthony, Emmy Award Winner
FOLLOW US on TWITTER @CoolCatLovesYou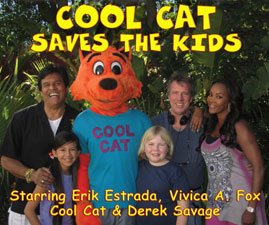 Watch the Cool Cat Movie Trailer:
--- Cool Cat Clothes ---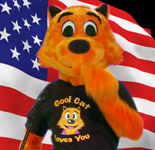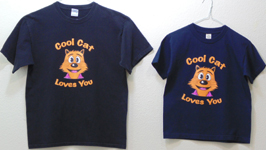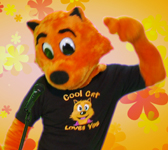 Get Your Cool Cat T-Shirts Today at eBay!
Only $17.99 each, All Sizes Same Price!
Available in Kids Large; Adult Large & X-Large

Itís the Same 'Style Shirt' that Cool Cat wears in his Movie!
You also get a Free Cool Cat Book and Poster with purchase!
--- Cool Cat Books & eBooks ---
Books & eBooks
Are Coming Soon!!

>>> RAVE REVIEWS <<<
Cool Cat is Fun!
Adam West, the Real Batman
I Love Cool Cat!
Bo Derek, Legendary Actress, The Perfect '10'
Cool Cat is a Clever Series!
Rupert Murdoch, CEO of FOX and 20th Century FOX Studios
Cool Cat has so much Potential!
Bill Melendez, 9-time Emmy Winner, producer of Charlie Brown
Cool Cat's Bilingual text makes learning fun for kids.
Jonathon Lewis, President of Parents and Kids First
All Cool Cat Books are Bilingual - in English and Spanish -
Cool Cat
Loves
the Soldiers
-----
A Cool Cat
le gusta
los Soldiers
Cool Cat
Loves
Wrestling
-----
A Cool Cat
le gusta
Lucha Libre
Cool Cat
Loves
the Beach
-----
A Cool Cat
le gusta
the Playa
Cool Cat
Loves
Baseball
-----
A Cool Cat
le gusta
Baseball
Cool Cat
Stops
Bullying
-----
A Cool Cat
Detiene la
Intimidacion
--- Cool Cat Posters ---
Cool Cat Greeting and Birthday Cards are Coming Soon!

Would You like a Free
Cool Cat Poster?
- 8x11 Size Poster -
- 11x17 Size Poster -

Print Quality PDFs - Share with Your Friends!
<<<< Play Cool Cat's Fun MatchGame Here >>>>
See the Trolly the Trout Cartoon !!!
Tony Award Winner Linda Hopkins, sings the Trolly song!
--- Cool Cat 'Kid's Gun Safety' PSAs ---
Starring Vivica A. Fox, Eric Roberts, Chief LaChasse of Burbank PD, Derek Savage and Cool Cat


Hi! I'm Derek and Thanks for Visiting. Always remember,
Cool Cat Loves You!

The Savage Site has won the prestige Website Awards
- For Cool Cat Business Inquires-



---


Copyright © 2015, Derek Savage. All Rights Reserved. Cool Cat is a Trademark of Derek Savage.
The Cool Cat Website is hosted by www.LasVegasWebHosting.com - Just tell them Cool Cat sent you!